Home
Fashion
Home Deco
Music Artist
My Mission
Profile
Thank you / Links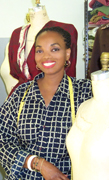 Fashion Designer at heart

Cathy Oyoué was exposed to the art of sewing at 15, and has been a fashion dreamer since then.
After a few successful amateur fashion shows in her native Gabon, and a supportive interview on TV, Cathy O decides at 23 to drop her "serious" studies in History, and follow her Vie d'Artiste.
Educated and trained in New York City, Cathy O is proficient in both creative and technical aspects of fashion. She can basically create or recreate (hand-altered) in any size a large range of outfits such as; evening gowns, wedding gowns, work clothes, shirts, dresses, pants, jackets, winter coats, evening coats, and more for men, women & children. Catherine Oyoué does say to have a preference for special occasion pieces as they allow for more freedom in their innovation or more extravagance in their design.