To Mom & Dad with Love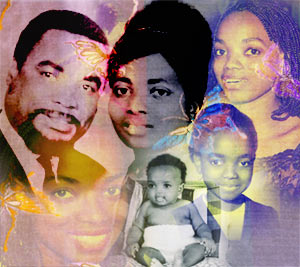 Catherine Oyoué at different stages of her life with her parents Solange and Jean-Félix Oyoué.
Image by Marie Aude Design www.marieaudedesign.com created for the dedication page of the CD Album.
To my relatives, friends and true supporters who are sharing my creative journey. You may find your name hidden between two rhymes of my song "Thank you", written just for you.
Listen carefully, and again...merci beaucoup!
Thank you, merci beaucoup, bisou- bisou...
To the wonderful artists who collaborated generously on my dream project Dare to be. Thanks a million for sharing your talent and passion. My success is your success!
Marie-Aude Preau who created all the beautiful visuals and lay-outs, including my website www.marieaudedesign.com
Alan Roy my multi-talented music producer, alanroy724@yahoo.com
Phillipe Pierre my gifted accompanist,
718-217-1787